Mealworm Time® Dried Mealworms (15 lbs)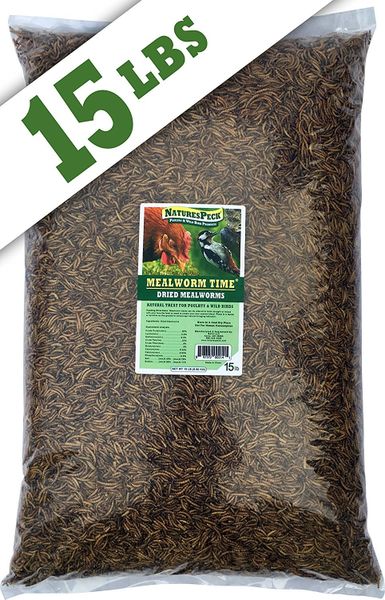 Mealworm Time® Dried Mealworms (15 lbs)
Your bird's favorite part of the day is Mealworm Time!
 All natural, high protein dried mealworms are the perfect treat and supplemental food source for chickens, ducks, bluebirds, woodpeckers, and more.
Get 15 pounds of quality dried mealworms at a great low price. Shipped in 1 big but easy to handle 15 lb bag.
Mealworm Time
®
 from NaturesPeck

- 
We are your source for the highest quality mealworms.
NaturesPeck
is owned and operated by people who have been in the mealworm business for over a decade so you can be sure to receive quality mealworms at low prices. We pride ourselves in providing great quality with service to match and that's guaranteed because we want you to come back to us the next time you need mealworms. 
Mealworms for Poultry - Our mealworms make a great treat for most poultry including chickens, ducks, and turkeys but the high protein found in our dried mealworms makes it a great protein supplement too. When your hens are going through a molt, mealworms will provide an excellent protein boost that can benefit feather growth. Mealworms make it easy to work with your hens because with a bag of mealworms in your hand they will follow you anywhere! 
Mealworms for Wild Birds - Insect eating birds like bluebirds, woodpeckers, chickadees, orioles, wrens, and robins will more likely visit your bird feeders if you're providing mealworms along with your regular bird seed. Insects aren't abundantly available to birds year round so providing high energy, high protein mealworms will keep your backyard birds happy all year long. 
Mealworms for Pets - Mealworms are enjoyed by many popular pets like hedgehogs, sugar gliders, turtles, and lizards. Aquarium fish like Oscars and other cichlids will enjoy dried mealworms as a treat that makes a nice change from typical tropical fish food.
What is a mealworm? Great question! Mealworms aren't really worms but rather the larvae of a darkling beetle (Tenebrio molitor).
What size are NaturesPeck mealworms? On average our mealworms are 1" long and we carefully handle our dried mealworms to ensure you receive whole mealworms.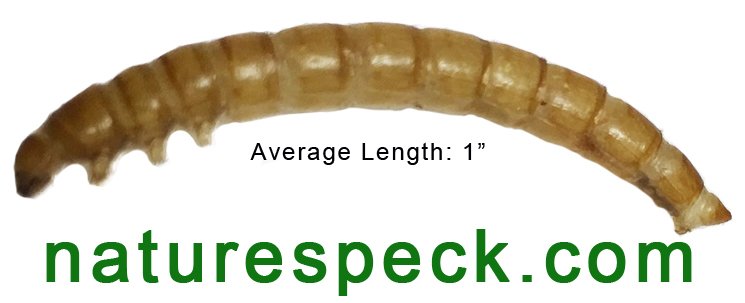 Ingredients: Dried Mealworms
Guaranteed Anaylsis: Protein (min) 50%, Fat (min) 23%, Fiber (max) 8%, Moisture (max) 7% 
Net Weight: 15 lb
Our 15-pound bag of NaturesPeck Dried Mealworms qualifies for FREE SHIPPING when shipped within the continental United States. 
Featured Products