Worm Combo -10lbs (5 lb Mealworms & 5 lb Sunworms)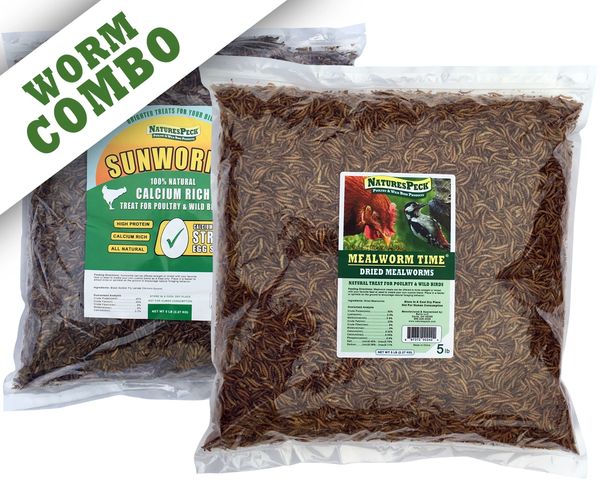 Worm Combo -10lbs (5 lb Mealworms & 5 lb Sunworms)
On Sale Now! Pay only $26 per 5lb bag!
A great time to try new Sunworms( Black soldier Larvae) while ordering Mealworms. Feed separately or mix together to create your own custom treat blend for poultry and wild birds. 
Get 5 lbs of Mealworms and 5 lbs of Sunworms for one low price!
DRIED MEALWORMS
Ingredients: Dried Mealworms
Guaranteed Anaylsis: Protein (min) 50%, Fat (min) 23%, Fiber (max) 8%, Moisture (max) 7% 
Net Wt: 5 lb
DRIED SUNWORMS
Ingredients: Black Soldier Fly Larvae (Hermetia illucens)*
*Considered one of the best new alternative protein options for use in animal feed 
Guaranteed Analysis
Crude Protein(min)............45%
Crude Fat(min)..................35%
Crude Fiber(max)................8%
Moisture(max).....................8%
Calcium(min)......................3%
Net Wt: 5 lbs
Featured Products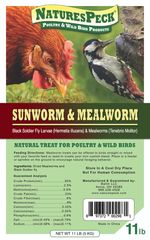 NEW! NaturesPeck® Mealworms & Sunworms *Blend (11 lbs)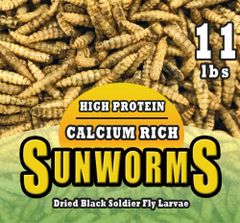 NEW ( 11 lbs) Sunworm / Dried Black Soldier Fly Larvae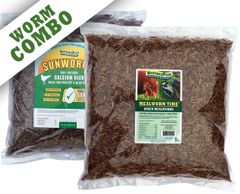 Worm Combo -10lbs (5 lb Mealworms & 5 lb Sunworms)