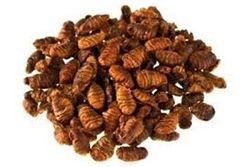 Silkworm Pupae- 5 lbs
Dried Silkworm Pupae is a nutritional high protein treat.
Feed to Koi , Pond  Fish ,Turtles, and reptiles.
100% Natural Dried Silkworms pupae also have high levels of calcium and nutrients such as;minerals, vitamins and other essential fatty acids.
Can be fed whole, crushed or mixed with your favorite seed . Silkworm pupae have been said to be beneficial in the growth and color enhancement of Koi fish.
Typical Analysis:
Minimum Crude Protein 52%, Minimum Crude Fat 30%, Maximum Crude Fibre 3%, Maximum Ash 4.5%, Maximum Moisture 6%.
Featured Products